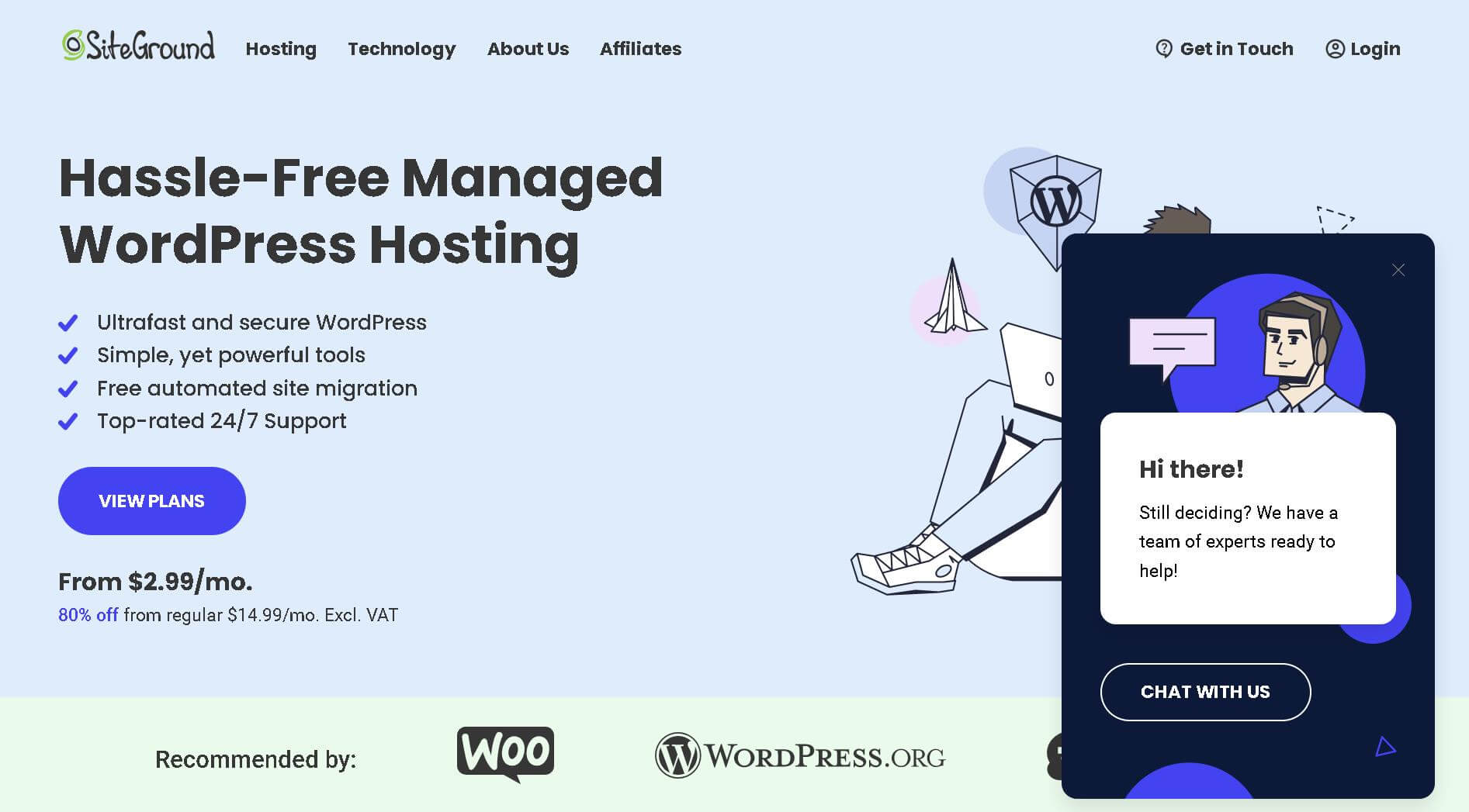 Quick Summary
SiteGround is a popular shared hosting provider that is trusted by more than 2.8 million domains.
Besides shared hosting, they also offer WordPress hosting, cloud hosting, and even dedicated servers.
SiteGround is a reliable web hosting company with fast speeds, a user-friendly interface, and solid customer service. Overall, SiteGround ranks near the top of all web hosting companies for both uptime (99.99%) and speed (356 ms). The customer support team is knowledgeable, fast, and friendly. All plans come with a CDN, SSL certificate, and email accounts.
Domain: No. Domain prices start from $17.99/year.
Ease of Signup: Very easy, one-page sign-up process.
Money-Back: 30-days money-back guarantee.
Payment Methods: Credit Card (there are other options available through chat)
Hidden Fees and Clauses: Renewal rates are higher. And you have to pay for a domain name (no freebie).
Upsells: A few… but nothing too bad.
Account Activation: Quick account activation.
Control Panel and Dashboard: cPanel
Installation of Apps and CMSs (WordPress, Joomla, etc.): Quick and easy install of popular apps and CMSs using Softaculous.
WordPress Hosting
StartUp
1 web
10G SSD
200k Inodes
768M RAM
10k Visits
Free Email
Unlimited Sub
No faster PHP
No White-label
Unlimited FTP
Daily Backups
0 Manual Backup
SSH + SFTP
GrowBig
Unlimited Web
20G SSD
400k Inodes
768M RAM
100k Visits
Free Email
Unlimited Sub
30% faster PHP
No White-label
Unlimited FTP
Daily Backups
5 Manual Backup
SSH + SFTP
GoGeek
Unlimited Web
40G SSD
600k Inodes
768M RAM
400k Visits
Free Email
Unlimited Sub
30% faster PHP
White-label
Unlimited FTP
Daily Backups
5 Manual Backup
SSH + SFTP
Do We Recommend SiteGround?
Yes, We do recommend siteground. There are few reasons we recommend siteground.
Reasons to Using SiteGround Hosting
1. Good Customer Support Experience
SiteGround offers a very complete level of customer support Its tutorials and guides are also high quality.
The 24/7 live chat support are the best service compare with other providers.
In less than 3 minutes you can connect with siteground's experience technician.
Siteground's technician can help you solve the problems very quick, they know what cause the problem and can guide you to fix it within 3-10 minutes.
2. Daily Automatic Backup
Backups are one of the most important aspects of hosting, as anything could go wrong at any time. SiteGround automatically backs up your entire system, every day, and keeps each backup for a good 30 days. Few other hosts provide this feature on their basic plan, and some don't have it at all.
However, on-demand backups, a basic feature that all other hosts do provide, is available only on the advanced plans.
All hosting packages from SiteGround can have daily backups enabled. Note you can set up your own custom backup schedule if daily is not the right option for you.
3. One Click Restore Website, Database or Email
If you would like to restore your website for any reasons, siteground's restore function is very simple. Choose the date you would like restore the website and click it. That's it.
4. Free and Easy Site Migration
If you have a wordpress website hosted elsewhere, you can use the automatic migration option in the panel. The process is simple enough: just install a plugin on your current website and enter the generated token in the SiteGround panel.
This will work for simple websites, but if your website is too complex (many plugins, custom additions, special fields, etc.) there's a good chance of problems.
You can choose to migrate your website manually via FTP, File Manager, or MySQL – or you can pay extra for a "professional migration" and have SiteGround's experts take care of everything for you. It's nice to know this is an option, but it also happens to be an option many web hosts offer for free.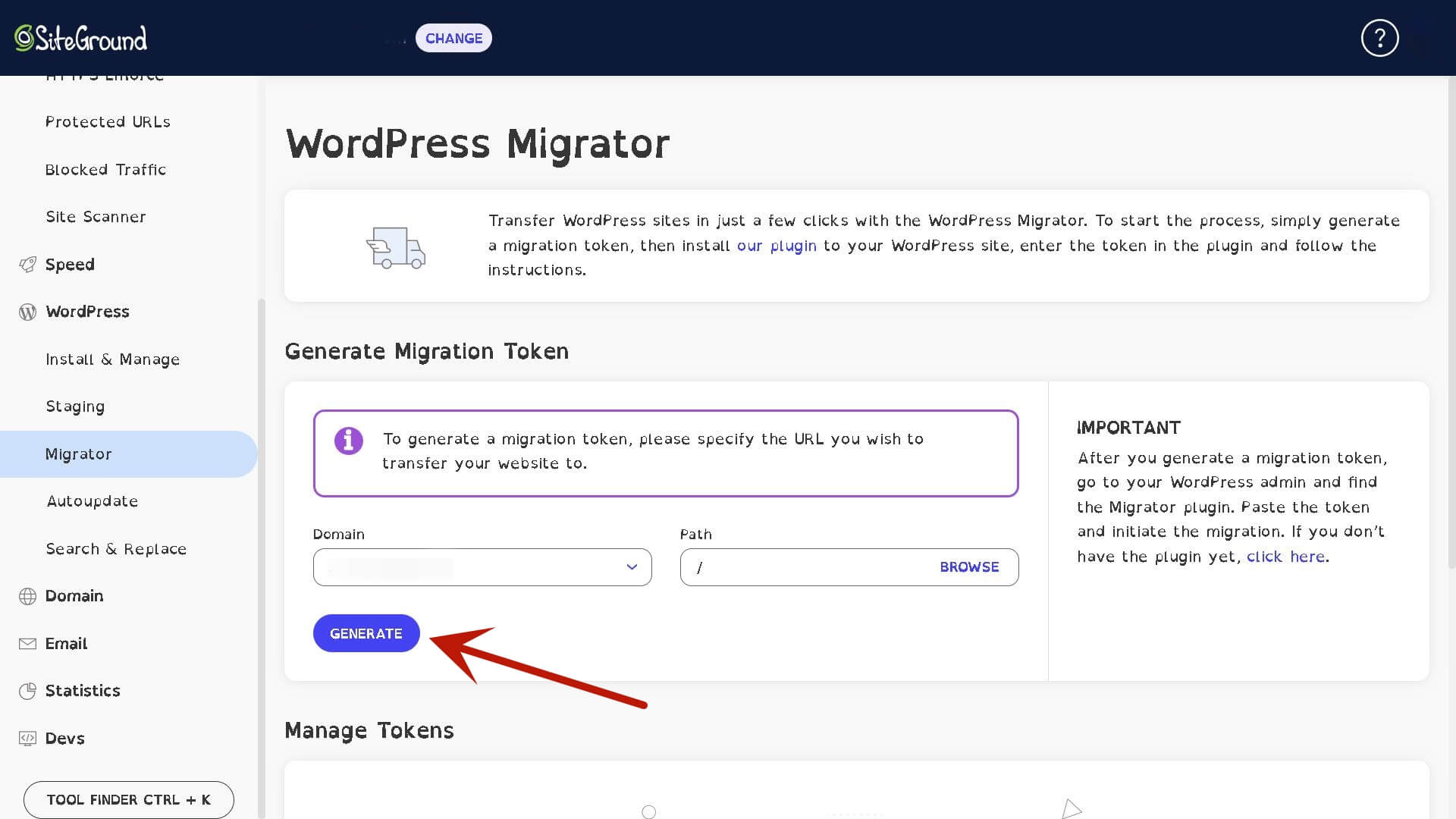 5. Unlimted Email Accounts
Email hosting is an important feature for many site owners, especially businesses. This feature allows you to create email addresses that end in your domain name, which gives you a professional look. Many hosting companies charge for this feature, but not SiteGround.
You can create as many email accounts as you need without any extra charge. Also, you can set up spam filters, email forwarders, and other related features quickly and easily.
6. Free SSL Certificate
No matter which hosting package you sign up for at SiteGround you will be given a SSL certificate. These certificates come from Let's Encrypt SSL, a leader in shared certificates. Having this certificate in place will not just help to secure your site, but it will also help to boost your rankings with the search engines.
SSL is an encryption protocol. You can think of SSL as the series of instructions your server and a user's web browser must follow when sending and receiving information to make sure the data being transferred is not intercepted by and read by unauthorized parties.
7. Easy To Install WordPress
No matter which hosting package you sign up for, you can choose from a variety of different content management systems, including WordPress. If you use WordPress, you will likely select one of the WordPress-specific options from SiteGround. Even if you are custom coding your own website, you can upload those files through either the secured FTP option or the built-in file manager tools.
8. 30-Days Money-Back Guarantee
SiteGround features a full 30-day money-back guarantee on all shared hosting plans.
Like many other hosts, domain name fees and any other "extras" are usually not refunded. And this refund policy only applies to brand new customers. So you can't get refunds on renewal plans.
Who Should Choose SiteGround?
Small Businesses: If you are a small business owner, your website needs to always be up and running smoothly. SiteGround not only offers extremely reliable hosting, but it is also very easy to manage. You do not need to be a tech expert or to hire one to keep your site working well.
Entrepreneurs: Entrepreneurs need to have websites for whatever business or project they are starting. Many entrepreneurs need multiple websites at a time for different things. SiteGround makes it quick and easy to start and manage a website no matter what type of technical experience you have.
E-commerce Sites: One of the most important things an e-commerce site needs in web hosting is a good CDN to ensure the site loads quickly no matter where a visitor is from. SiteGround offers CDN services with all hosting packages. We tested the response times of images and other files loaded from the CDN and all were excellent.
Individuals Making a WordPress Blog: If you want to start your own personal blog or another website project, SiteGround is an excellent option. We found that we could register for an account with SiteGround, install WordPress, and start publishing our site in well under an hour because everything is so simple. Even if you are never looking to get famous with your site, this is a worthwhile hosting company to consider. But it isn't the cheapest route if your budget is minimal, though the entry-level hosting is still just $2.99 per month.
Social Influencers: While influencers today spend most of their time on social media sites like TikTok and Instagram, you will typically need a website to help share information with users across all platforms. SiteGround is an ideal option because it is easy to work with and you can quickly link up all your social accounts to publish directly to your website.
SiteGround may be the best web host for: Most people with any type of site. The only people who really can't use it are those that require the highest-end hosting options that need a dedicated server.
When to use SiteGround hosting?
SiteGround offers unbeatable services and I'd recommend it in a heartbeat. It's suitable for serious projects, and if you need more performance down the line, you can upgrade to one of its premium hosting plans (e.g. cloud hosting or dedicated). I especially recommend it for:
Online store (SiteGround WooCommerce hosting available)
Professional bloggers
Websites that run on WordPress (more information) – to have managed WordPress hosting services.
Large corporate websites
Developers and designers that want quality and good customer support
Those looking for features like staging, Git repositories or SSH access
In general, anything that will require high-performance solutions
Remember that you can try SiteGround for 30 days with no obligation.
When not to use SiteGround hosting?
Even though this hosting company adapts to many profiles, in some cases it might not be the best option, for example:
If you're looking for cheap web hosting
If you want Windows-based servers (check A2 Hosting)
If you need a lot of webspace and have a small budget
FAQ